Bento #108 - Veggie & Cheese Pastie
Today's lunch: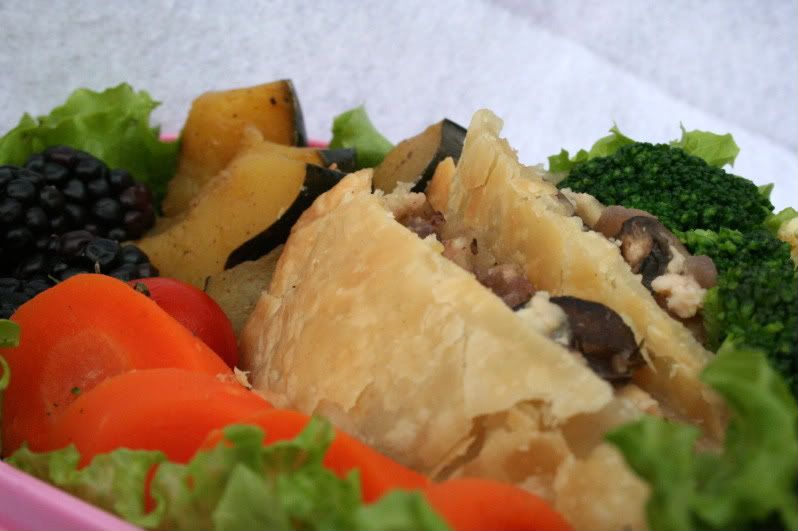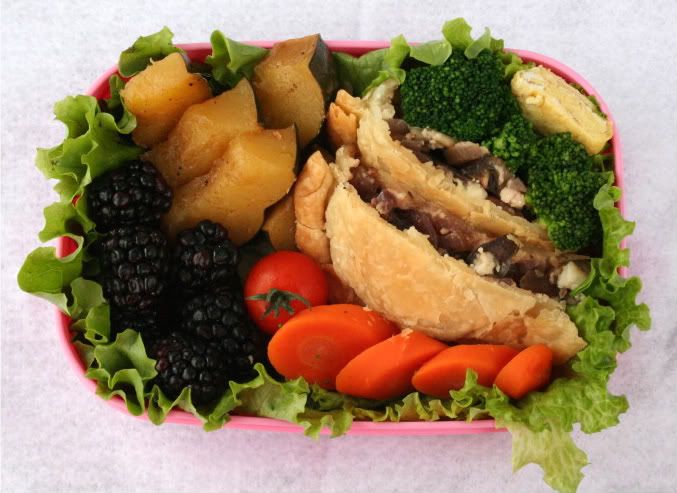 Clockwise from Bottom Left:
1 - Blackberries
2 - Stewed Acorn Squash
3 - Onion, Mushroom & Feta Pastie
4 - Broccoli
5 - Tamagoyaki
6 - Carrots
7 - Cherry Tomato
WW Flex Points = 6
Veggie & Cheese Pasties - Makes 8 mini pasties

Prepared Pie Crust*
8 oz Baby Portobello Mushrooms, cleaned and cut in quarters
1 Medium Red Onion, Sliced
1 Clove Garlic, crushed & minced
1 Tbs Olive Oil
1 Cup Crumbled Feta, Goat, or Parmesan Cheese
1 Small Potato, cut into approx 1/4 inch cubes
4 Tbs your favorite vinaigrette dressing (Italian, Greek, & balsamic all work well)
Salt & Pepper to taste

1. Preheat oven to 350° F.
2. Using the olive oil, sauté mushrooms, onions and garlic until soft and volume has reduced by about half. Let cool.
3. After the veggie mixture has cooled add the cheese, potatoes, dressing and salt & pepper. Mix 'till all items are dispersed equally and coated with dressing.
4. Divide your crust into eight equal parts. Roll each section into a four inch circle.
5. Put an eighth of the veggie mixture on half of the pastry crust. Moisten the edges with milk or water, fold over, and pinch to seal. Cut two small slits on the top to vent steam. Put on a lightly-greased cookie sheet, and bake for 20-30 min, or until the crust is golden brown.

*I cheated and used store bought (one pie crust makes 8 mini pasties), but I've made my own in the past, both work fine.
Stewed Acorn Squash
½ Acorn Squash
½ C Water
¼ C Maple Syrup
¼ tsp Cinnamon
1 Small Knob Ginger, cut into fourths
1 Tbs butter or margarine
Salt & Pepper

1. Cut the squash into slices along the width. Cut the slices in half.
2. Combine remaining ingredients in a small pot. Bring to a boil and then reduce to a simmer. Add squash. Cover pot.
3. Simmer until tender, but not mushy (about 10 minutes). Drain liquid and pull out ginger pieces. Serve hot or cold.