The challenge this week at Bento Challenge is Disney. SO I decided to do one of my enduring favorites, Tinkerbell. Now, mind you, I've never done a specific character for my bento before, so why in my mixed up mind, did I think doing a character as delicate as Tink would be a good idea? Oh well, she could have come out worse I suppose! So anyway, here is Tink checking out her flower garden: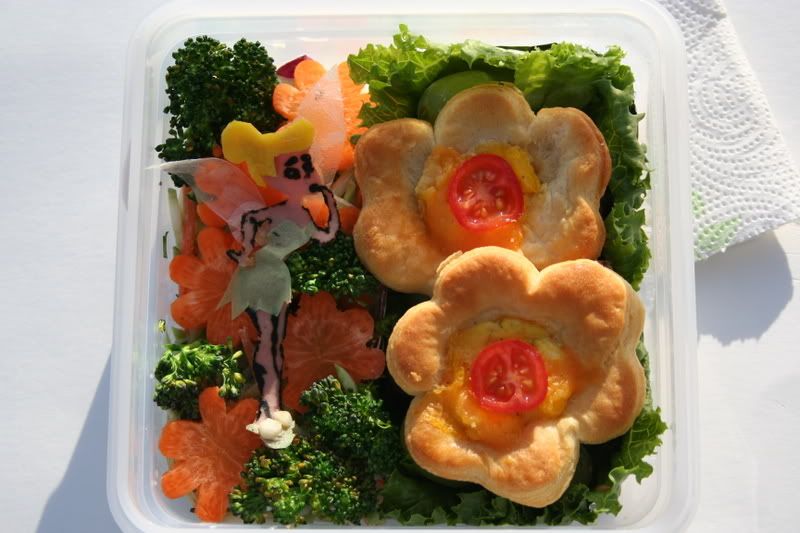 On left:

Tinkerbell is made of bologna (skin), egg (hair), soy wrapper/mame nori (dress and shoes), spring roll wraps (wings) and black paste food coloring and a toothpick..

Steamed broccoli and carrot flowers on a bed of broccoli slaw.

On right:

Mini cheese quiches in pastry cup topped with a grape tomato slice.
Hiding around the quiches are green and red grapes (you can see one peeking out at the top of the top flower).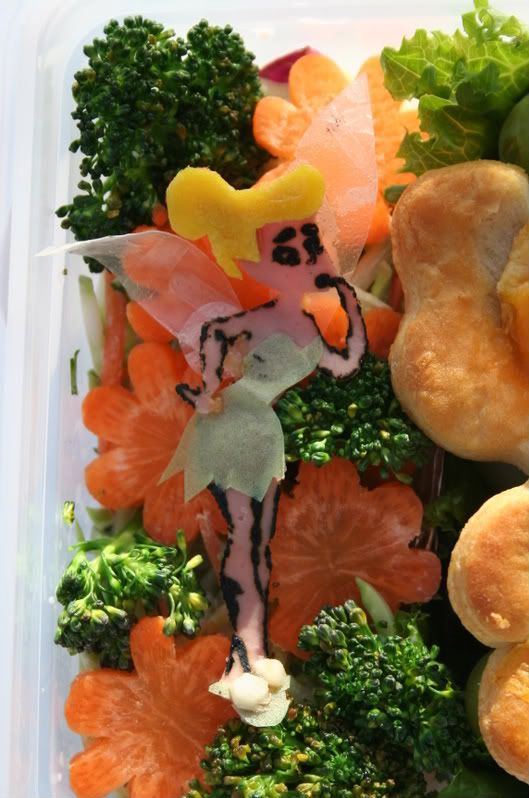 Fairy Good Quiche

Ingredients:

Refrigerated pie crust (or pop-tube cresent rolls)
1/2 cup grated cheese (your choice, these are cheddar)
2 eggs
2 Tbsp cream
Salt and Pepper to taste
(4-6 grape/cherry tomatoes - optional)

To Make:

Preheat oven to 400 degrees F.

Generously spray a minimuffin tin with non-stick spray. Make sure to spray the area connecting each cup together along with the cups themselves.

Cut a 2-3 inch flower shape out of the piecrust. (If using the cresent roll option you will need to form a square out of each triangle and pat out slightly before cutting.) Place each flower into a muffin cup, push the center in and against the walls of the pan,then flatten the petals around the edge of the cup.

Place approx 1 tsp grated cheese into the bottom of each shell.

In a bowl, combine eggs, salt, pepper and cream. Pour into pastry shell filling almost to the top. (I find using a gravy ladle makes it really easy to fill the cups.)

Sprinkle with 1 tsp of grated cheese and bake for 10-12 minutes or until golden brown and slightly puffed. Remove from oven and let cool for 5 minutes before removing from pan.

Garnish top with grape/cherry tomato slice or leave plain.

Makes 10-12 bite size quiches.