Bento #105 - Scotch Egg (Sorta)
Today's bento is a little sparse, I have to hit the grocery store today. Here it is: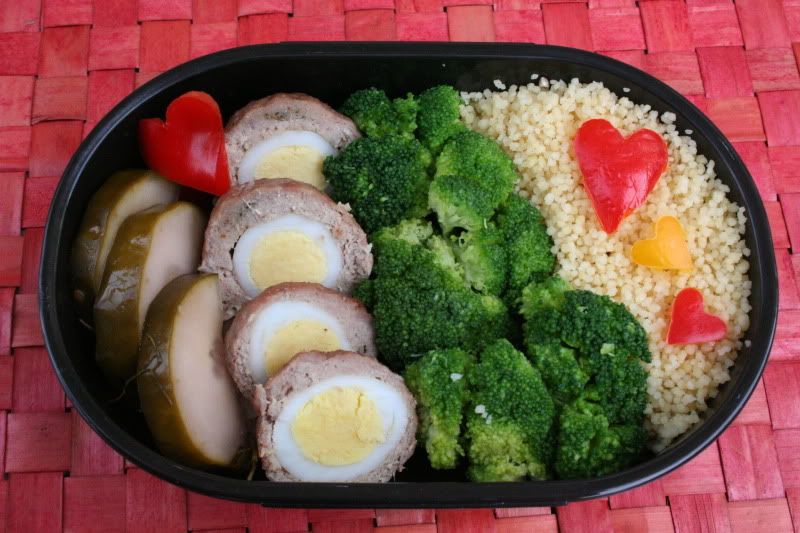 Left to Right:
1 - Refrigerator Pickles
2 - Scotch Eggs
3 - Broccoli
4 - Cous Cous
I'd been wanting to try Scotch eggs, but didn't want to bread & deep fry them, so these are my "faux" Scotch eggs. Lean turkey sausage wrapped around quail eggs and baked. The sample batch was very tasty, hopefully they will be good at room temperature too.
WW Flex Points = 4
Sorta Scotch Eggs
Ingredients:
½ lb ground lean turkey, chicken, or pork
2 Tbs panko or breadcrumbs
½ tsp dry sage
¼ tsp dry thyme
¼ tsp ground clove or nutmeg
¼ tsp red pepper flakes
½ tsp dry parsley (or 1 tsp finely chopped fresh)
¼ Cup onion, grated on a fine grater
Salt & Pepper to taste
6-8 quail eggs
2 Tbs flour

Directions:

1. Preheat oven to 400° F (200° C.)

2. Put quail eggs in a saucepan with water. Bring to a boil and turn off heat. Cover and let sit for two minutes. After two minutes drain and rinse with cold water to stop cooking process. Peel eggs carefully (they should be slightly soft.)

3. Use your hands to combine the meat thoroughly with the breadcrumbs, onion & seasonings. The mixture should get sticky. Divide into equal portions (one portion for each egg.)

4. Put the peeled eggs in a plastic or paper lunch bag with the flour and gently shake to lightly coat the egg in flour.

5. Wrap each egg evenly in a portion of meat, being sure they are covered completely.

6. Chill for a half-hour.

7. Place the eggs spaced well apart on a lightly greased baking sheet (or line the baking sheet with a silicon liner or parchment paper). Bake 15 minutes, then turn and bake another 15 minutes.